Inon D-200 Strobe (incl. Strobe Dome Filter SOFT and Strobe Light Shade)
---
625,00 EUR
Inon
Inon D-200 flash system
110 degrees coverage UNDERWATER without diffuser.

Powerful Guide Number 20.

Easy to handle as the strobe is slightly buoyant underwater giving 4g lift.

13-step Manual Mode in addition to proven S-TTL Auto.

Bundled "Strobe Light Shade" to prevent shining camera lens

220 lumen, shutter linked auto OFF Focus Light

Easily visible conspicuous phosphorescence back control panel during day and night.

Improved intuitive controllability with larger control dials

Newly designed radiation system to release generated heat inside to underwater

Highly versatile optical cable connection.

Minimum recycle time "approx. 1.3 sec." at Full Flash.

On-board Wireless TTL capability.
Compatible batteries:
AA "eneloop" (BK-3MCC) [recommended] x 4

AA "eneloop pro" (BK-3HCD) [recommended] x 4

AA NiMH (*8) x 4

AA Alkaline x 4

AA Lithium (1.5V) x 4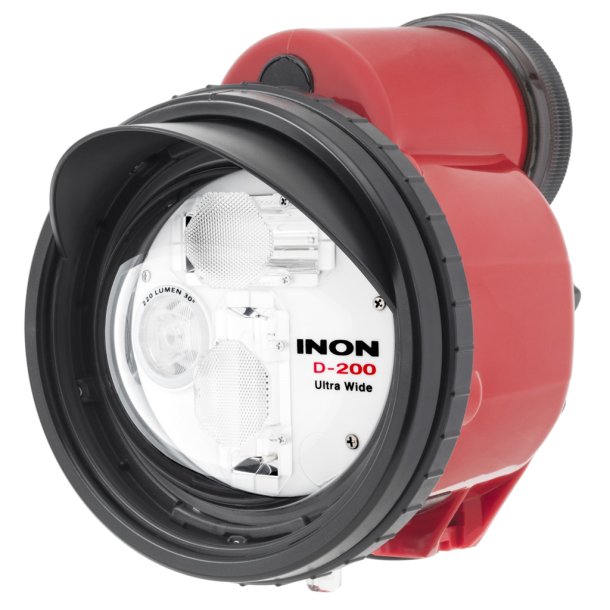 Description
---
Inon D-200
The D-200 is precisely designed to provide an ultra-wide beam with Inon patented T-shape Twin Flash system,
offering a 110-degree beam underwater without a diffuser (that would sacrifice intensity), and
an optical trigger system and has a powerful Guide Number of 20 (iso 100) powered by 4x AA - batteries.

Furthermore, the design is made to be intuitive and easily accessed with large buttons and dials, and with the
phosphorescence back-control panel the D-200 is easy to see and operate in low light environments.
It also features a flash system that recharges a full power fire at 1/1000 shutter speed.

The D-200 comes with a highly adjustable (and removable) shade that can be turned 360 degrees preventing
the light source from interfering with your footage example lens flares.