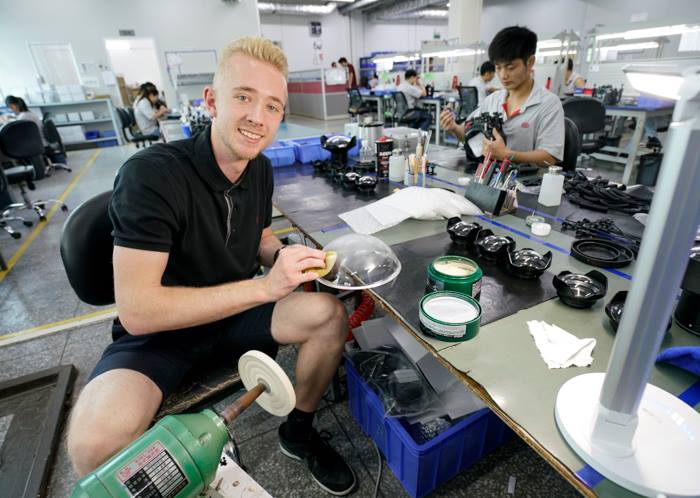 Kristoffer Nymann, DK

First ever "Nauticam Young Talent Ambassador".
When I met Kristoffer the first time, he was only 17-years old.
He came to the office and wanted to buy the best underwater housing on the marked... a Nauticam housing for his compact camera.

I thought it was quite a lot of money for such a young man, and I talked him into getting a cheaper acrylic housing, and then spend some of the money of a good lens, some light and a tray system... and then get into the water and get some pictures taken.

It turned out, that Kristoffer was already an exceptional good diver and there was a reason for him being picky with the choice of housing. Kristoffer is an 'Industrial Technician', and he had already looked deeply into the marked and made his choice based on the best he found...
So it did not take more than a year then he was back... meanwhile he had upgraded to a Mirrorless camera and this time he got his Nauticam housing!
Kris wanted to learn... so it did not take long before I started asking him to join our dive trips. He was and is a keen learner, and for every trip he went on the quality of his images got better, and today he is not only a solid underwater photographer with a fantastic eye for beauty and detail, he is also able to think out of the box and come out of the water with images that not even elder and more experienced photographers can do.
Last year FOTOGRAFIT was about to become Nauticam Service Partner, and I needed to go to the Factory in China and do a service course. It was a no-brainer to ask Kristoffer to go with me, and we both spend a great week at the factory getting our certificates.
Needless to say, that Kris was a lot better than I... even at the tour around the factory upon arrival the Managing Director asked Kris to take over the explaining, as his knowledge of the machinery was on the level of an experienced and skilled machinist..!
In fact, Kristoffer made such a good impression, that Nauticam asked him to come back to do an Internship... which he did... only 1 month later.

Nauticam got the point... Kris was a Diamond in the Rough and they wanted to honor it. So they gave him the title as first ever "Nauticam Young Talent Ambassador"... at the age of 20... and sent him home with a complete D500 housing package including all the needed Ports and accessories...

Kristoffer got his Nauticam..!
(Kristoffer is now working part time as Service Technician at FOTOGRAFIT)