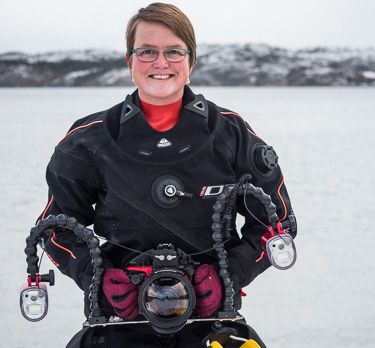 Ann Karin Matberg, NO
A fantastic Mediator.
Dedicated to the sea!

My heart and soul have always been drawn towards the sea...

Underwater you find a quiet and surprising world, full of colors, beautiful and strange animals, odd collaborations and interesting encounters. For me, diving is the perfect match of mindfulness and meditation. It gives me peace like nothing else. Hovering under water, completely weightless, peeking into the world few people know, getting to understand the animals and their behavior – nothing can beat that!

Macro or wide-angle, freezing cold water in Norway, ripping currents in Galapagos, muck-diving in Bali or crystal clear water in the Red Sea? Why choose? I love it all...

Due to a body severely affected my ME, every moment I can spend with my camera under water is important. To observe life under water and try to capture the special moments, and then share them with those unfamiliar with this magnificent world is my biggest passion. If I can use my pictures to spread awareness of, knowledge about, and share the joy of the amazing underwater world that we have - then my purpose is done.

We are bound to the sea - let´s take care of it while it still can be saved!